Lifesaving Smoke Alarm Installations
Smoke alarms save lives. We'll say it again, smoke alarms save lives. 
Smoke alarm installations are required to be installed by a qualified electrician. A qualified electrician will be able to ensure you have the correct Smoke Alarms installed in your home. 
You may have heard about the Werribee house fire tragedy on Sunday night that injured two parents, an 8 year old, and took the lives of 4 young kids below the ages of 10. No family should have to face this devastating tragedy. Our sincere thoughts are with the family during this time. 
The cause of this fire is unknown however we just want you to know just how deadly fires can be. Everyone says it'll never happen to me until it does. 
It is important to know how to maintain your smoke alarms, how often you have to replace your smoke alarm batteries and how often you have to replace smoke alarms.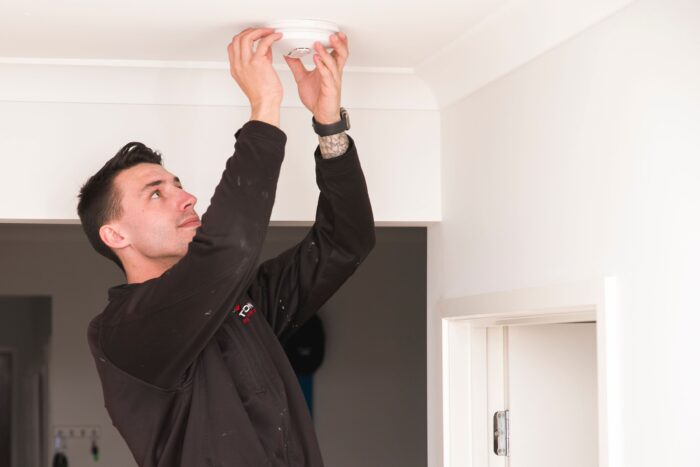 Photoelectric Smoke Alarms Vs Ionisation Smoke Alarm 
Photoelectric Smoke alarms 
Photoelectric smoke alarms being only a new technology are very highly recommended. Photoelectric smoke alarms have shown to respond faster to smoldering fires than any other smoke alarm, this is because these smoke alarms detect large particles in the air, causing them to be more sensitive to large smoke. Photoelectric smoke alarms have a light source that aims into the smoke chamber, so when the smoke particles enter the chamber light reflecting onto the light sensor will trigger the alarm. 
Recommended highly from us as they have a higher rating of early detection of household fires.
Ionisation Smoke Alarms 
Ionisation smoke alarms are the most common smoke alarms still used around Victoria. Ionisation smoke alarms generally are more responsive to flaming fires, as they pick up large amounts of small particles in the air, so it would take longer for this smoke alarm to detect smoldering fires. These smoke alarms are highly recommended not to be installed near a kitchen as they are more prone to be triggered. 
Types of Smoke Alarms 
9V Battery smoke alarms: 9-Volt battery smoke alarms are a smoke alarm that we don't recommend for installing in our customers houses, reasoning because they are not fail-safe, meaning if the battery fails or dies there is no backup battery. These smoke alarms are the cheapest type, and they do not require cabling and can be installed in any spot around the house. Must be changed every year. 
Hard-wired smoke alarms: Hardwire smoke alarms are a better and safer option as they have two sources of power, meaning if the power went out they still have that 9V battery as a back-up. They are more fail-safe but they still need to have their batteries changed as frequently as the 9V battery smoke alarm. Battery must be changed every year.
10 year lithium ion battery smoke alarms: The 10 year lithium ion battery smoke alarms are the smoke alarm we highly recommend, and the only smoke alarm that we will supply and install to our customers. This smoke alarm has a long life of 10 years, which allows you to have one less thing to worry about every single year!! With being both Hard-wired and battery included this smoke alarm is fail-safe. Changing a battery every year can be so simple but can be so easily forgotten about! Must be changed over every 10 years. 
Why a qualified professional install my smoke alarms?: Our team at Sutton Security and Electrics are all qualified and experienced electricians, we have installed thousands of smoke alarms over the years! We always want to make sure our client is in the safety position they can be in, that's why we highly recommended getting a professional to install your smoke alarms to ensure they have been installed properly and are safe to rely on. 
Where to/not to install smoke alarms 
Where to install smoke alarms 
Bedrooms,

It is very important to install smoke alarms in bedrooms and in our opinion the safety option, especially if there is heaters in the rooms, if people sleep with the door or if noisy appliances are in the room like air conditioners, tvs or anything that could take your focus off the sound of the smoke alarm.

HALLWAYS ARE A MUST,

It is very important to get smoke alarms installed in the hallway closest to the bedrooms especially if there isn't any currently installed in the bedrooms.

Multi-story homes,

if you have a multi-story home it is very important to install smoke alarms in the path leading between each level, ect stairs 

Garages

, we recommend looking into installing a heat alarm in your garage. 
Where not to install smoke alarms 
Incorrectly placed smoke alarms can end up in them going off unexpectedly and when they aren't needed. This is a good example of a nuisance alarm, these are dangerous because it leads people to disconnect the smoke alarms as they are annoyed and irritated by the 'false alarms', leaving them without an alarm when they might need it. 
Places to avoid
Above cooking appliances and stove tops 

Damp and humid areas eg, bathrooms, laundry's
Close or above any type of heaters
Close to excessive air movement eg, Ceiling fans, windows,
https://7news.com.au/news/vic-fires/four-children-killed-in-devastating-werribee-house-fire-remembered-as-beautiful-souls-c-4647132